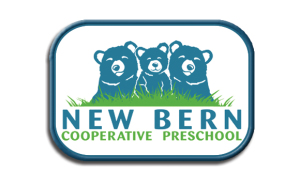 The Board of Directors for New Bern Cooperative Preschool (NBCP) is pleased to announce an increased number of classrooms and days offered to families, and the additional hiring of a New Bern teaching treasure.
Housed by Christ Episcopal Church of New Bern in the heart of Downtown, NBCP is embarking upon its second school year. The cooperative preschool approach is new to eastern North Carolina and offers an attractive alternative to the preschools currently available in the community. A parent cooperative preschool is not-for-profit; organized and maintained by families who hire trained educators, resulting in a quality preschool experience,  a welcoming community and a hands-on role for parents.
"After a hugely successful inaugural year, we have established a supportive and active community. This year, we're building off this foundation and have added an additional class which has enabled us to strengthen our staff," said Lauren Faul, President of the New Bern Cooperative Preschool Board of Directors.
After serving as the Lead Teacher of the NBCP staff last year, Debbie Fodrie has stepped into the school's Director role. Fodrie retired from the Craven County public school system in 2015 after nearly 30 years as an elementary school teacher. She will continue to teach the 4 and 5-year old class this year.
"I'm thrilled to be a part of such a strong staff who share a heart and passion for the growth and development of our young children. And the level of support we get from our families is unlike any program I have experienced in all my years of teaching. New Bern Cooperative is truly a special, unique place and I'm excited for the growing potential we have reached already," praised Fodrie.
Adding to the experienced staff is New Bern native, Dana Paul. A 32-year teaching veteran with early childhood and Exceptional Children's Program experience, Paul has continued to serve Craven County since her retirement as a part-time English as a Second Language tutor. She will be teaching NBCP's recently added 3-days-per-week 3-year old class.
Registration for New Bern Cooperative Preschool is open to all families with children ages 2-5.  More information can be found on their website, NewBernPreschool.org.
Submitted by: Jessica Creech, Board of Directors