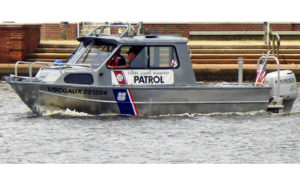 As every boater knows, obtaining local knowledge is an important part of a safe and enjoyable boating experience. The Neuse and Pamlico River basins, the Intercoastal and Outer Banks are very popular boating areas.
For new or experienced area boaters, your local Coast Guard Auxiliary is offering a three hour "basics' course on navigating these local waters Saturday, August 27, 9:00 am to Noon, University of Mount Olive, 2912 Trent Rd, New Bern, next to the movie theater.
Subjects covered include locations and features of popular anchorages, marinas, using a chart or GPS on local waters, aids to navigation (buoys), new locations for boating adventure including the Intercoastal Waterway, the Outer Banks to Cape Lookout.
The course is taught by Certified USCG Auxiliary instructors.
The cost is $5.00 and includes a CD packed with LOCAL information and guidance to boating safety.
For more information and to register for this class (required), contact Karl Mielenhausen: 252-638-1433. For information on USCG Auxiliary boating classes in Eastern NC, go to CGAux.Org/BoatingED/class_finder/
Submitted by: Bob Manning, USCG Auxiliary 20-04, Public Education Officer