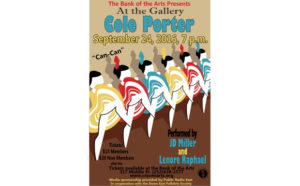 Bank of the Arts signature concert series kicks off with first winner of the Tony Award for Best Musical
Craven Arts Council and Gallery is proud present the return of the At the Gallery Series with songs by Cole Porter, performed by JD Miller and Lenore Raphael. These veterans of the New Bern Jazz showcase promise a night of talented performances of one of the originals of the Great American Songbook. This concert will take place at Bank of the Arts, 317 Middles St. on September 24th, at 7:30pm.
The At the Gallery Series provides audiences with the opportunity to enjoy American Standards in the unique visual and acoustic setting of the Bank of the Arts. Audiences will enjoy two fifty minute sets, and an intermission that includes wine and hors d'oeuvres. A lecture by Steve Kelly, President of the Down East FolkArts society, begins thirty minutes before the show, and discusses the life and influence of the composer. This year's season begins with Cole Porter, winner of the first Tony Award for Best Musical, and first Legend Inductee into the great American Songbook Hall of Fame. Porter wrote over 800 songs for a variety of plays, musicals and movies, including "Kiss me Katie," "The Gay Divorce," and "High Societey."  His work  has been described as musically complex, with witty urbane lyrics and an underlying sense of melancholy. Songs by Porter include "In the Still of the Night," "Love for Sale," and "I Get a Kick Out of You."
Performers JD Miller and Lenore Raphael are veterans of jazz. Miller is an accomplished singer, who has performed at venues up and the East Coast at public corporate and private events. He's been called "the next big romantic balladeer" with a "perfectly rich and gorgeous, heartfelt voice." Lenore Raphael has been widely recognized for her work as a jazz pianist, recording seven cds and receiving two Grammy nominations. She also hosts a jazz podcast, and is the artistic director of jazz concerts in New York city and North Carolina.
Tickets for this show are available at Bank of the Arts, call 252-637-2577, or visit CravenArts.org.
Submitted by: Jonathan Burger, Marketing and Gallery Director, Craven Arts Council & Gallery, Inc.