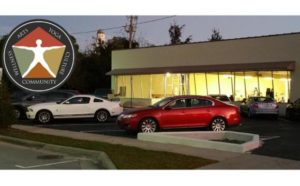 Guest Speaker on Social Entrepreneurship and New Bern Salvation Army's Angel Tree
The Entrepreneur Center of Craven County (TEC3) invites you to the December Entrepreneur Series Event on Thursday, December 8, 2016 from 5:30 p.m. to 7:00 p.m. at New Bern Arts and Wellness, 919 Broad St., New Bern, NC.
The December event will feature a presentation by Elizabeth Benefield, Program Coordinator for NC State's Social Entrepreneurship Initiative. Social Entrepreneurship advocates for business models that look beyond profit margins and is based on finding innovative solutions to social problems. In addition to the presentation, there will be lots of time for informal networking as we celebrate the momentum building in Craven County's entrepreneurial community.
Once again, TEC3 is participating in the New Bern Salvation Army Angel Tree. If you would like to contribute, please bring an unwrapped toy and we'll be sure to get it to a child in need.
For those who have wanted to attend one of the TEC3 events, this is a good time to start. Become a part of the buzz that is The Entrepreneur Center of Craven County and help us create an innovative, inspired and shared entrepreneur culture.
Special Thanks to our sponsors for the December event, New Bern Arts and Wellness and Solid Rock Accounting.
Please join us for this informative presentation and holiday gathering. To register or find out more:  TECCC.org.
The Entrepreneur Center of Craven County – TEC3 – is an ongoing collaboration between Craven County, the City of New Bern, Swiss Bear Downtown Development Corporation, the Craven 100 Alliance, Craven Community College, and the Small Business Center to create, encourage and facilitate an entrepreneurial culture by assisting early-stage and expanding companies to grow their businesses through information, education, and networking resources. TEC3 is currently in the process of securing funding for an entrepreneurial development space, The Cube, at 509 Broad Street.
Submitted by: Abigail Wilson, Craven County Economic Development