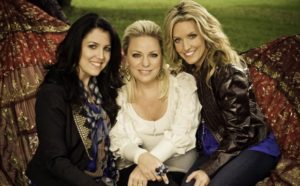 Point of Grace will be performing in concert Friday, December 9, 2016, 7:30 PM at Glad Tidings Church in Morehead City, NC. The Crystal Coast will be one of the many stops that comprise the artists' Home for The Holidays Tour.
As a trio, it's been a journey that's 20 years in the making – thirteen albums deep, punctuated with 27 #1 songs, 13 Dove Awards, three Grammy nominations, career album sales in excess of 7 million with multiple Platinum and Gold certifications, making them one of the top 10 best-selling artists in the history of Contemporary Christian music. This is sure to be a special night of Point of Grace's well known hits and sounds of the Christmas season as well as songs from their newest project, "The Road Home," which was co-produced by country and blue grass legends Vince Gill and Ricky Skaggs.
Point of Grace is a part of Artists for Compassion and this will be an opportunity for those who attend to be a part of sponsoring children all over the world to receive the necessities of life.
Tickets are available at gladtc.com and PointofGrace.net.
For more information contact Tajuana Hill at 252-725-0178.
Submitted by: Kim Moseley on behalf of Tajuanna Hill, Music Pastor of Glad Tidings Church