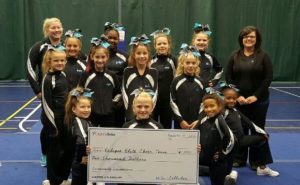 Eclipse Elite Cheer Team in New Bern has received $1000 to cover competition expenses through U.S. Cellular's "Community Connections" program.  Eclipse Elite Cheer Team signed up to receive sponsorship dollars from U.S. Cellular at pearup.com/uscellular and then rallied their neighbors, friends and family to earn points that were converted into money to cover competition expenses.
"Organizations like Eclipse Elite Cheer Team are at the heart of our communities. By ensuring they have the necessary tools and resources to provide meaningful opportunities for our youth, we are investing in our future," said Jeremy Taylor, director of sales for U.S. Cellular in eastern North Carolina.
"Community Connections" is in its second consecutive year, and is an exclusive collaboration between U.S. Cellular and Pear, an online platform that connects local brands with local community needs. Last year, U.S. Cellular provided $295,000 in sponsorships to more than 700 local school groups and youth sports teams through this program.
"We would like to thank U.S. Cellular for this donation. It takes pressure off our families for additional fund raising and allows the girls to not have to worry about any added expenses for the remainder of this year," said Kristen Akers, head coach for Eclipse Elite Cheer Team.
About U.S. Cellular
U.S. Cellular is the fifth-largest full-service wireless carrier in the United States, providing national network coverage and industry-leading innovations designed to elevate the customer experience. The Chicago-based carrier offers coverage where the other carriers don't and a wide range of communication services that enhance consumers' lives, increase the competitiveness of local businesses and improve the efficiency of government operations. U.S. Cellular has the Highest Wireless Network Quality Performance in the North Central Region, according to the J.D. Power 2016 U.S. Wireless Network Quality Performance Study, and 99 percent of customers have access to 4G LTE speeds. To learn more about U.S. Cellular, visit one of its retail stores or uscellular.com. To get the latest news, promos and videos, connect with U.S. Cellular on Facebook.com/uscellular, Twitter.com/uscellular and YouTube.com/uscellularcorp.
Submitted by: Melissa McIntyre, Public Relations Counsel, U.S. Cellular