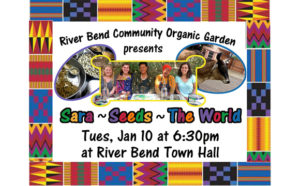 On January 10, 2017, Sara – Seeds – The World promises to be an evening of adventure and insight.
Living with families in-country, Sara Snyder, River Bend resident and Duke University Junior spent the fall semester researching sustainable gardening in Tanzania, India and Italy. Sara's immersion in the culture and practices of her host countries gave her an insider's view of what native populations do to feed themselves and protect their food sources. Her perceptive observations and sensitivity are reflected in her insightful commentary.
Sara's captivating Power Point presentation will offer the audience a view of country life a tourist would never see. River Bend Community Organic Garden invites you to save the date, Tuesday, January 10, 2017 at 6:30pm at River Bend Town Hall.
Submitted by: Connie Casey