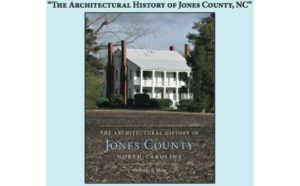 The Jones County Historical Society cordially invites you to a book launch and signing event for "The Architectural History of Jones County, North Carolina".
Sunday, January 29th, 2017 from 2pm – 4pm at Grace Episcopal Church, 111 E. Lakeview Dr., Trenton, NC behind the Jones County Courthouse and across from the Cemetery.
A brief book program in the Sanctuary will be followed by the book signing by the author, Christina R. Moon, with book purchases and refreshments in the Parish Hall.
This limited edition, 500+ page book features photos of homes, churches, and buildings along with historical information and is available for $75 per copy.
You may also purchase the book at the following locations:
– Brock Motor Company, 403 NC Hwy 58, Trenton
– Kinston-Lenoir Co. Visitors Center, 101 E. New Bern Rd., Kinston
– In the New Bern area, you may contact David French at 252-521-1416
– By Mail: Please make your check for $88.50 per copy including shipping to JCHS, 437 Stroud Road, Trenton, NC 28585
For more information, call Mr. Charley Jones, President, Jones County Historical Society at 252-448-1390.
This post shared by The Family History Society of Eastern North Carolina.  For more information about genealogical, historical, cultural programs, events, and research in ENC, please visit Facebook.com/FamilyHistorySocietyOfENC and ENCFamilies.org.
Submitted by: David French