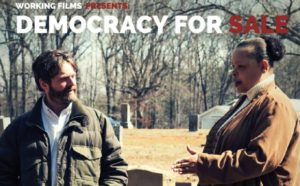 New Bern, NC is one of 22 cities across North Carolina who will be premiering the new documentary Democracy for Sale featuring NC native Zach Galifianakis. The local screening will take place at the Democracy NC meeting on February 7, 2017 at 6:00 p.m. at the Unitarian Universalist Fellowship Hall, 308 Meadows Street, New Bern.
North Carolina – once a beacon of light and generosity in a sea of red state reactionary politics – is now one of the most regressive and intentionally belligerent states in the union. The new documentary uncovers the role that money has played in this shift and offers a lesson for the rest of the nation.
Working Films indicates they are thrilled to be partnering with Appalachian Voices, Democracy NC, The NC NAACP, and many others to organize screenings across North Carolina to inform and mobilize residents to demand campaign finance reform, environmental protection, and an end to racist gerrymandering.
Democracy For Sale is part of the EPIX original documentary series "America Divided" Executive Produced by Common, Norman Lear and Shonda Rhimes. The five-part series features narratives of inequality in education, housing, health care, labor, criminal justice and the political system. Created by Divided Films with support from WK Kellogg Foundation, Just Films Ford Foundation, The JPB Foundation, and Open Society Foundations.
The local screening is brought to you by the Craven County Chapter of the NAACP and the local Democracy NC group. Admission is free. No tickets are needed. However seating will be on a first-come, first-served basis.
For Further Information contact Michael Schachter at 252-626-5100, NAACP Political Action Chair; or Sandra Wheeler at 252-259-8393, Volunteer Organizer, Democracy NC
Submitted by: Connie Casey