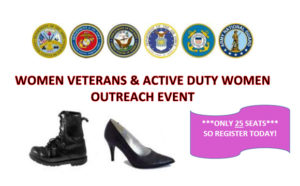 Friday, February 24, 2017 from 9:00am – 2:00pm
New Beginnings Ministry, 30 Park Lane in Havelock
Topics include:
– VA Healthcare
– VA Disability Claims
– Temporary Housing
– MST Counseling
– Civilian and Federal Employment
– Domestic Violence… and more!
Free Lunch and Childcare!
Presented by CarolinaEast Health System, New Beginnings Ministry of Faith, Veteran's Organic Garden, and NC Works.
Register today as there's only 25 seats!
For more information or to register, contact Reeshema Walker, DVOP, NCWorks Career Center, Craven County at 252-514-4828 Ext. 241 or via Email.
Submitted by: Lovay Wallace-Singleton, Veterans Employment Base Camp and Organic Garden