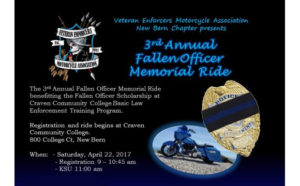 Veteran Enforcers Motorcycle Association (VEMA) presents the 3rd Annual Fallen Officer Memorial Ride on Saturday April 22.
All event proceeds go to the Fallen Officer Memorial Scholarship at Craven Community College.
Registration is at the Craven Community College from 9:00 am to 11:00 am.
Registration is $20 for riders, $10 for passengers.  Everyone is welcome, motorcycle, car, or truck.
The first 100 registered will receive a T-Shirt, breakfast, and lunch.
The ride will travel from the college, through Craven and Pamlico county and end at Harley-Davidson of New Bern.
Door Prizes, Raffles, 50-50, Corn Hole.
Check us out on Facebook at VEMA New Bern or VEMA-USA.com or send us an email.
Submitted by: Kevin Yates