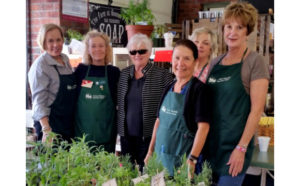 Trent Woods Garden Club is preparing for the largest herb sale in the club's history. The 12th annual sale will take place at The New Bern Farmer's Market on April 22, 2017 from 8:00am – 4:00pm. Not only is April 22 Earth Day and Trent Woods Garden Club's herb day but it is also the Farmers Market's Springfest. That means there will be many more vendors and the market will extend their hours. The usual driveway through the market will be closed to allow for additional vendor booths and for patron's safety and accessibility to booths. April 22 will also be the pick-up day for pre-ordered herbs. For persons who pre-ordered, there is an option to pick up your order on Friday the April 21st. Please call 252-876-3819 as Friday pick-up orders will be packed before others.
A large and unusual variety of high quality herbs are grown in Beaufort County especially for this sale. There has been no increase in the price of 4″ pots in years; they are still $3.00 per pot. The herbs are Certified Naturally Grown, an organically grown certification for smaller farms. There will be available a variety of herbs for culinary, flowering, fragrance and medicinal purposes.
The proceeds from the annual sale help fund scholarships for 2 Craven County high school students, provide funds for the maintenance of the Trent Woods Blue Star Memorial Marker as well as other worthy community projects.
For information, call 252-876-3819.
Submitted by: Jane Ferree, Trent Woods Garden Club