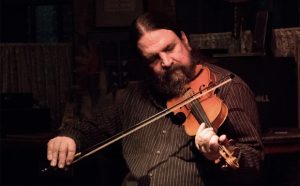 Simon Spalding returns to Trent River Coffee Company on Wednesday, July 26, presenting "On the Road to Mandalay". The program combines songs, tunes, and storytelling to weave an intricate tapestry of exploration, adventure, and far-off lands and seas.
The songs include Rudyard Kipling's poem sung to the English folk tune he probably intended for it; a song about Amelia Earhart's tragic last flight; Stephen Foster's tribute to his favorite riverboat; and more songs of the sea and adventure.  Instrumental tunes from far-flung corners of the globe round out the program.
This concert will also include Simon's original song, "The Ballad of S.S Rex", about a gambling ship that was anchored three miles from the Santa Monica Pier from 1938 through 1941.
The instruments include the familiar (violin, banjo), and the exotic (Chinese erhu, Swedish nyckelharpa, and Tahitian ukulele).
Come take a voyage of music and imagination!
Trent River Coffee Company is at 208 Craven Street in New Bern.  The doors open at 6:00, and the music starts at 7:00pm.  Tickets are $10, available at the door.  Call 252-514-2030 for more information. For more on the artist, check out MusicalHistorian.com.
Submitted by: Simon Spalding