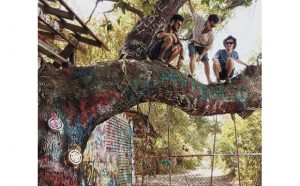 It's hard to stand out as a rock band in 2017 in a music industry that's driven by drum machines, vocoders, and midi keyboards. It takes a band that's truly compelling, an act that brings something visceral and attention grabbing to the table. Look no further than Arson Daily, a young trio from Raleigh, NC that brilliantly blends bluesy influences with biting alt-rock foundations.
Formed in 2014, Arson Daily have already begun to blaze their own trail within the North Carolina music scene. Comprised of vocalist/guitarist Zach Dunham, bassist Quincy Platt and drummer Adam McLean, Arson Daily signed to Split Rail Records and released their debut, self-titled full length in 2016. Since then, the indie rock trio have released their newest work, an EP titled, "What's On Your Mind?" The new tracks are full of dynamism, rousing high-energy jams and a couple of slow-brooding, moody tunes that makes for a compelling return to the scene.
Arson Daily stands out for a myriad of reasons, whether it be their rich storytelling or their infectious melodies and grooves, it's hard not to find something you love within their music. Their tracks perfectly capture the feeling of a fleeting youth with a divine mixture of sentimentality and yearning that's packaged as fun and dace-able. They return to New Bern in support of their newly released EP this Friday, August 25th to play at The City Laundry with local folk rock group, Bearfoot Monty.
Doors will open at 8 pm and the cover is $7.
Submitted by:  Zach Dunham, Arson Daily Band