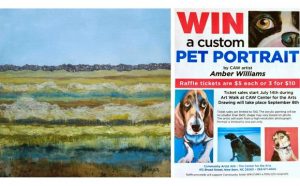 August 11, 2017
Artist of the Month
Dee Mayer, whose studio is in the CAW Center for the Arts, will be the featured artist there for the month of August. You can meet Dee and hear about her work at ArtWalk.
Dee, a resident of New Bern for 16 years, currently creates in mixed media, drawing upon her experience in working with oil, tempera, acrylic, watercolor, collage, print making, and the use of dyed fabric. She often generates "series," using similar or related colors and compositions for her pieces.
Dee holds a master's degree in art education from Syracuse University, and she taught art in both public and private schools in New York, including Cazenovia College.
"There has always been a great satisfaction for me in the order and arrangement of objects in my environment as well as in my art," she says. "I also sense a strong interdependence between nature and man as 'creator.' My art is always an attempt to convey this relationship."
Pet Portrait Raffle
Stop by CAW Center for the Arts to purchase your raffle tickets for the "Pet Portrait." You can win a custom painted portrait of your pet (created from a photograph) by noted animal artist Amber Williams. Tickets are $5 each or 3 for $10. Proceeds benefit the nonprofit CAW Center for the Arts. A pet portrait makes a great gift, too! Drawing will be held September 8; ticket sales limited to 100.
Submitted by: Susan Cheatham, CAW Center for the Arts