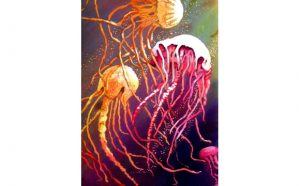 September 5 – September 31
Award Winning Local Artist to show in Director's Gallery at Bank of the Arts
Craven Arts Council and Gallery is proud to present the work of Cora Mae Pipkin in the Director's Gallery at Bank of the Arts for the month of September. Cora Mae Pipkin is a nationally award winning watercolorist, whose pieces utilize bright colors and bold use of negative space. Craven Arts Council will host an opening ecption for the exhibition during the Downtown New Bern Artwalk, September 8th from 5pm to 8pm.
Cora Mae Zimmerman Pipkin employs a wide variety of methods, materials, and techniques in her artistic journey to generate interesting and unusual pieces. Her colorful art ranges from the wildly abstract to semi-realistic; from pure watercolor to batiks and mixed media. She has always loved art, but after an injury, art became her therapy. Almost every piece of her art has its genesis in a strong emotional connection which underlies her creative drive. She draws not only from an abundance of materials, but from a rich enthusiasm for life. Her works have a story to tell and a story that created them. Speaking on her work, Pipkin says the goal is to "allow others to relate to her art and bring warmth, humor, and/or memories to their hearts."
Cora Mae's work has been accepted and awarded in national exhibitions, including the prestigious AWS International Exhibition in 2016 and Best in Show at the 2011 National Watercolor Society Members Show.  She maintains active membership in variety of artist organizations, including the National Watercolor Society, Twin Rivers Artists Association, Southern Watercolor Society, and the Watercolor Society of North Carolina. A retired teacher of elementary and special education, she currently serves as the Chairperson for Art in Education for the Watercolor Society of North Carolina.
Bank of the Arts is open 10am to 5pm Tuesdays to Saturdays, and until 8pm during Artwalk. Admission to all galleries is free.
For more information please contact Jonathan Burger, Marketing and Gallery Director, Craven Arts Council & Gallery, Inc. at the Bank of the Arts, 317 Middle St., call 252-638-2577, or visit CravenArts.org.
Submitted by: Jonathan Burger, Craven Arts Council & Gallery