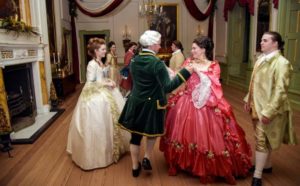 On Saturday, Aug. 5, auditions for the 37th Annual Christmas Candlelight Celebration will be held at the Waystation Auditorium from 1 – 4 p.m.
Tryon Palace is looking for men and women ages 18 and older for speaking and nonspeaking roles, as well as individuals who are willing to perform as 18th-century dancers.
Candlelight is a colonial Christmas celebration held at Tryon Palace every year. The celebration is a famed North Carolina tradition that takes visitors through time inside the Governor's Palace and historic homes, all illuminated by the glow of candlelight.
Those chosen to have roles in this event will be crucial aspects to the reenactment of each time period's Christmas celebrations throughout the grounds.
Tryon Palace's 37th annual Christmas Candlelight Celebration is scheduled for Saturdays, December 9 and 16. Those auditioning should plan on performing at both dates, if selected.
For more information call 252-639-3500 or visit TryonPalace.org.
Upcoming events at Tryon Palace include:
August 12: Tryon Palace Garden Lecture Series
August 12: A Look at Caning and Rush Seating
August15: Behind the Scenes: Conservation Lab
August18: Lunch and Learn: The Raid on New Bern
Submitted by: Craig Ramey, Director of Public Affairs, Tryon Palace