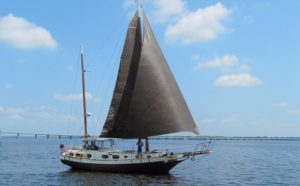 Blackbeard Sailing Club will be having a Meet and Greet Social for both experienced and novice sailors. Sunday, November 5, 2017 from 1pm – 4pm.
Come enjoy a fun-filled time chatting with seasoned Captains and Crew for the latest word on Racing, Cruising, Day Sailing and more. Plus, check out New Bern's most exceptional sailing facility.
Reservations Required: RSVP by October 30, 2017 Call Madeleine Knie at 910-494-5945 or Sandy Drechsler at 814-450-0857.
Blackbeard Sailing Club, 1215 Barkentine Dr., New Bern.
Submitted by: Madeleine Knie