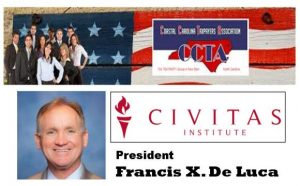 (Appearance set for October 17, 2017 in Stanly Hall)
Francis X. De Luca, President of Civitas Institute, will speak in New Bern October 17th and give a North Carolina legislative update.  In addition, De Luca will talk about the future of conservative reform in the state.  Following the addresses, the public will have an opportunity to participate in a question and answer period.
As a 501(c)(3) organization, "The Civitas Institute fights to remove barriers to freedom so that all North Carolinians can enjoy a better life".  This simple mission statement leads De Luca into the middle of such complicated North Carolina issues as State Budget, Education, Healthcare and Transportation.  Beyond North Carolina borders, Civitas has been involved with national issues such as illegal immigration, free speech, abortion and much more.
According to De Luca, other functions of Civitas include state level policy and political analysis including extensive public opinion polling for North Carolina.  Civitas also analyzes state legislative districts and assigns them a partisan score to indicate the likelihood of them supporting candidates from the two main parties.
De Luca has a diverse background that includes owning a small business, political consulting and working in government.  He served on active and reserve duty with the United States Marine Corps.  He's a Naval Aviator and flew combat missions in the first Persian Gulf War and was deployed to the Middle East in 2003 as part of Operation Iraqi Freedom.  De Luca retired after 30 years with the rank of Colonel.
De Luca has an undergraduate degree in Political Science from the University of North Carolina – Wilmington, and a Master's Degree in Political Science from the University of West Florida.
This speaking engagement is part of the monthly public meeting of Coastal Carolina Taxpayers Association (CCTA).  The event is free and open to the public.
Coastal Carolina Taxpayers Association is a 501-(c)(3) nonprofit, non-partisan organization dedicated to lower taxes, smaller government, individual liberties and protection of the US Constitution and the free enterprise system.  Membership in CCTA is open to everyone.
The CCTA public meeting will begin at 7 PM in the Stanly Hall Ballroom at 305 Pollock Street, downtown New Bern.  Note, for easy access there is also an elevator entrance at 249 Craven Street.  Refreshments and educational displays are available 30 minutes before the meeting.
For more information, contact Randy Siler – Program Chairman of CCTA.
Article written and submitted by Bill Poole, Publicity Chairman for CCTA