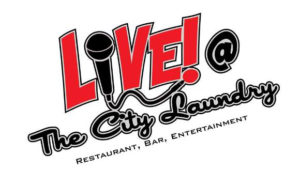 Wednesdays Pub Trivia with Austin Vaquilar. Pub Trivia every Wednesday Night at 7pm! Come and test your Trivia skills for an opportunity to win great prizes and have fun with friends! It's all about bringing people together! The kitchen at Live will be cooking up some great compliments for an evening of fun.
December 1st: Dinner and a Movie – Top Gun at 7pm. Join us for a special screening of the 80s classic Top Gun. Stick around after the movie and party on the dance floor. We'll have lots of drink specials and the kitchen will be cooking up some specialties too. Of course there'll be plenty of popcorn on hand for the movie.
December 2nd: Stand up and Improv Comedy Showcase! Hosted by Matt White at 8pm. Winner of the "2012 Port City Top Comic" and 2013 "Carolina's Funniest Comic", Matt White's brand of observational humor mixed with improv and theatre elements engages audiences and leaves them giggling for days. Join Matt and friends for an evening of laughter and fun also featuring New Bern's own Improv comedy team. Show Tickets $10.
December 7th: Cool Jazz with David Robinson at 6:30pm. Saxophonist David Robinson plays smooth jazz from the Great American Songbook. A nice relaxing starter for the weekend. There is no cover charge.
December 8th and 9th: The Miscreants' Christmas! A Holiday Who-dunnit, starts at 7pm, doors open at 6pm. A "miscreant" is a trouble-maker, and the North Pole has plenty of those as Mother Christmas calls a council of fictional Christmas characters to help her find the villain who has kidnapped Father Christmas. Join the council of zany and familiar Christmas characters as they navigate some tricky clues and interact with the audience to solve the crime. Our kitchen and bar will be offering specials and our regular menu will be available. See you at the North Pole! Show Tickets $12. Dinner is not included.
December 14th and 28th: Vintage Thursday with Alisa Mike at 6:30pm. Popular local singer Alisa Mike serenades us with jazz standards from the Great American Songbook. Vintage nights with Alisa are a wonderful trip back through time. She is a true Artist and a voice you must hear!" Table reservations are recommended. Always a full house! There is no cover charge.
December 15th: Puerto Rico Hurricane Relief Fundraiser w/ Arson Daily at 9pm. Arson Daily is a young trio from Boone, NC that brilliantly blends bluesy influences with biting alt-rock foundations. Formed in 2014, they have blazed their own trail within the North Carolina music scene. The trio, comprised of vocalist/guitarist Zach Dunham, bassist Quincy Platt and drummer Adam McLean, will donate proceeds from this event to hurricane relief efforts. Special guest appearances are expected. Show Tickets $7.
December 16th  and Saturday December 22nd – 23rd: Santaland Diaries and Santa Responds, Showtime at 8pm, doors open at 6pm. Jody Bledsoe and Kim Vaquilar return to the stage at Live performing in two hilarious one act plays. The Santaland Diaries features a conversation with Crumpet, an elf in Macy's Santaland. Based on the true chronicles of play-write David Sedaris' experiences, this cult classic riffs on some truly odd encounters with his fellow man during the height of the holiday crunch. In Act II  Santa Responds. After receiving millions of letters from children all over the world, Santa finally writes back. And he's being brutally honest… The Santaland Diaries and Santa Responds are not recommended for children. They contain mature content and language. Tickets $10. Dinner not included.
December 21st: Acoustic Coffee House with Patrick Bliss at 7pm. Bleeker Street bohemia! Local singer guitarist Patrick Bliss takes the stage for an evening of acoustic blues folk and Americana. There is no cover charge.
December 29th: Improv Comedy Night at 8pm. Audience's are part of the show! Give us your suggestions and watch us create hilarious unscripted scenes right before your eyes! Featuring some of the best Improv teams from across the Carolinas. Come and explore the hilarious, unpredictable world of improv comedy. Show Tickets $7.
December 31st: Madame Z's New Years Eve Burlesque. Madame Z hosts the New Years Eve Party you won't want to miss! Step into our Speakeasy and dance the night away. Madame Z's Burlesque will offer a naughty mix of Dance, Comedy and Entertainment. It's a fun night that you won't find anywhere else in New Bern! Champagne Toast at midnight included in all tickets! VIP Seating $45 – Includes Dinner and VIP seating. Cash bar. General Admission – $20; After 10pm $10 – Late Show
For more information, call 252-876-7007 or visit The City Laundry at 901 Pollock St.
Submitted by: John Van Dyke, Live @ The City Laundry