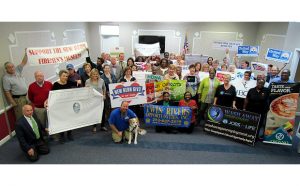 Join the Chamber Non-Profit Council and New Bern Now on November 28th from 9:30am – 11:00am at Union Point Park for the launching of #GivingTuesday with a "New Bern United" celebration to kick off a local day of giving in the community!
We will capture the day of giving through video and a photo shoot at 10:00am sharp (no stragglers after 10:05) to be featured on the cover of the 1st Quarter Ledger Magazine (Jan – Mar 2018).
The video and photo will feature all Craven County Non-Profits executives, staff, board members, volunteers, friends of nonprofits, partners in Giving Tuesday and donors.
Bring your nonprofit logo, Business sign, T-Shirt, etc. for the video! Please note: The Cover shoot will not include any signs or banners as we want to see everyone's smiling face!
Leave prepared to do acts of kindness by giving time, talent, and treasures.
Please let us know if you have any questions by call 252-638-6858 or sending an email.
Wendy Card