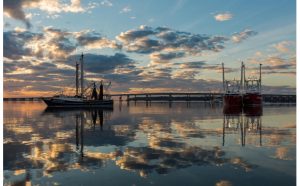 Extended Hours and Events for the Holiday Season
Craven Arts Council & Gallery is proud to announce special hours, performances, and workshops for the 2017 holiday season. These events are meant to provide the public with free, open events that celebrate and unwind the holiday season while enriching the cultural atmosphere of New Bern.
Craven Arts Council will extend their Friday hours to 8pm during the month of December. Fridays will also include performances by local musicians, including pianist Dayton Vespers, family band Strung Together, and singer Alisa Mike. These performances will take place on the 8th, 15th, and 22nd respectively. The first performance, during the monthly downtown ArtWalk, will start at 7pm. The following nights' performances will begin at 6:30pm and last one hour.
Performances will also be hosted on Saturday afternoons, from 2-3pm. Starting December 2nd, performers will include Craven Ukes, RiverTowne Players, Downeast Dulcimers, and a flute and piano duo. Visitors are encouraged to sit and watch the performance or tour the galleries at Bank of the Arts.
Craven Arts will also be hosting kids craft workshops on Saturdays leading up to Christmas. These workshops will be hosted twice daily, at 11am and 1pm, for one hour. Instructors will demonstrate and assist in children creating upcycled ornaments, candy cane holders, and paper toys.
All holiday performances and workshops are free and open to public. For a complete schedule and descriptions of events please visit CravenArts.org or visit the Bank of the Arts.
For more information please contact Jonathan Burger, Marketing and Gallery Director, Craven Arts Council & Gallery, Inc. at the Bank of the Arts, 317 Middle St., New Bern, 252-638-2577
Submitted by: Jonathan Burger