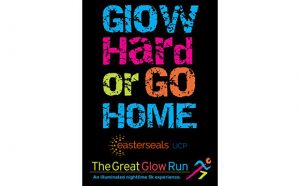 The Great Glow Run 2018 is Almost here!
Easter Seals UCP's New Bern Great Glow Run is happening the evening of March 10th at Union Point Park.
The Great Glow Run is a Glow in the Dark Certified 5K experience for individuals of all abilities. It starts at Union Point Park in Downtown New Bern, NC and the course goes through the Historic District. Prior to this, there is a children's 1 mile run right in the park. The course is lit along the way with glow sticks and people cheering you on! It is truly a unique experience! There are prizes for runners of several age groups, best run times, and costume prizes are included also. This year's Great Glow Run Ambassador is Dareon Reid! He currently attends Craven-Cherry Point Child Development Center. Make sure you get a chance to meet him!
All proceeds benefit our local Easter Seals UCP. We work side by side with adults and children who are managing disabilities and mental health challenges in Craven, Pamlico, Carteret, Jones, and Onslow Counties. Our purpose is to help neighbors in need to achieve better days and live their best possible life.
You can register to participate or volunteer by going to:  Its-go-time.com/great-glow-run-new-bern/.
For more information, Contact Kathy Lewis at the New Bern Office, 252-636-6007 or Barbara Krcmar at the Havelock Office, 252-447-3892.
Submitted by: Barbara Krcmar, Program Supervisor, Craven-Cherry Point Child Development Center, 200 Webb Blvd., Havelock