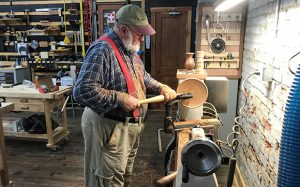 Saturday, March 24, 10 AM to Completion
Back by popular demand, James Riggs will be demonstrating more complex wood turning. This time he will be turning a goblet with a captured ring out of black walnut. At his last demonstration he turned three bowls that he gave away to lucky attendees.
Mr. Riggs has won numerous woodturning awards including being named Best Turner in Carteret County. Aside from the occasional seminar, Mr. Riggs also mentors woodturners at Riggs Woodturning Shop.
The demonstrations will be on Shop Class's Grizzly G0766 wood lathe.  Although there is no cost for this demonstration, space is limited so please RSVP (preferably by email) to reserve a seat.
Visit Shop Class at 406 Guion St., call 252-617-8980 or check out our Facebook page.
For more information or to reserve your workbench, call 252-617-8980.
Submitted by: Maurice Howland, Shop Class, LLC