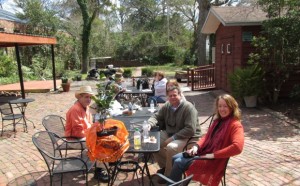 Look no further as here's a list for both occasions…
Are you planning an event or just looking for a place for your civic group to meet?
We know it's difficult to find a place to hold an event or meeting that suits your budget. Especially non-profit organizations. We also know that there are occasions to go all out on planning that special event. So, with the help from our readers, we've come up with the below list of venues to help you make the best choice that suits your needs.
– New Bern Parks and Recreation Facilities include: Glenburnie Park, Lawson's Creek Park, Pleasant Hill Park, Ft Totten Park, Union Point Gazebo, West New Bern Recreation Center, and Stanley White Recreation Center.
– The Entrepreneur Center of Craven County
– VFW Post 2514
– Craven Community College
– The Elks Lodge #764
– The JED Room
– The Charlotte Rhone Cultural Center
– New Bern Farmers Market
– Ask Churches if they can accommodate your meeting or event.
– Isaac Taylor Garden
– Savis Wine Shop
– Attitudes Pub & Grille
– Annabelles (upstairs)
– Famous Bakery
– Bear Town Market (inside and outside)
– Stanly Hall Ballroom
– Copper Ridge
– Abilena Plantation
– New Bern Chamber of Commerce
– DoubleTree by Hilton
– Tryon Palace and the North Carolina History Center
– New Bern Riverfront Convention Center
– Hampton Inn
– Bridgepointe Hotel
– Springhill Suites
– Candlewood Suites
– Holiday Inn and Express
– The Aerie Bed and Breakfast Conference Room
– The Bank of the Arts
– Emerald Golf Club
– Greenbrier Golf and Country Club
– New Bern Golf and Country Club
– Carolina Colours Gofl and Country Club
– Courtyard by Marriot
– The O'Marks Building
– The Chelsea Restaurant (upstairs)
– Bakers Kitchen (upstairs)
– Beer Army Burger Company (upstairs)
– Lawsons Landing/Aperitivo
– The Flame Catering & Banquet Center
– The Harrison Center
Note, there are some venues that require you to use their caterers for your events so make sure you ask details before you commit.
Please let us know if we missed anything by sending us an email or calling 252-259-6853.. Sign up for the latest updates by submitting your email address in the right margin on New Bern Now's website and you'll receive a daily email at 5 p.m.
Wendy Card