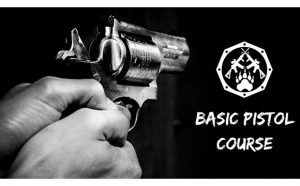 BEAR Tactical Solutions will be hosting a Basic Pistol Course on Saturday May 19th from 9 a.m. to 5 p.m. The class will be held at the New Bern National Guard Armory, located at 301 Glenburnie Drive in New Bern.
The Basic Pistol Course is designed to instruct inexperienced pistol shooters on safe handling, cleaning, storage, purchase considerations, fundamentals of marksmanship, legal overview and more. Students will also be eligible for promotional giveaways and they will get to use our training simulator.
We personally guarantee that you will have fun and you will learn from the course material. This would be the perfect course for you to take if you were considering purchasing a handgun or you planned on taking a Concealed Carry Course in the future.
The cost of the course will be $50 per student and payment can be made with cash, check, or money order. Payment in advance is not required. Payment can be made on the morning of the class. Go to: Facebook.com/events/239551366609084/ and click "GOING" on the event in order to register for the class. While you are visiting our Facebook page, please be sure to like/follow us and suggest the page to your family and friends to see the latest upcoming training from BEAR Tactical Solutions.
Submitted by: Robert McKone, B.E.A.R. Tactical Solutions