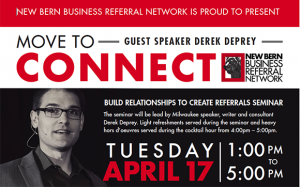 We would like to invite you to join us, the New Bern Business Referral Network, on April 17th from 1 – 5 p.m. at the New Bern Country Club as we invite speaker and author, Derek Deprey, to join us in a seminar – MOVE TO CONNECT: Build Relationships to Create Referrals. Tickets are on sale now and for only $35 you will experience a motivating, John Maxwell certified speaker and author of the book SHIFT: How to Move from Frustrated to Fulfilled. We will also host a cocktail hour with music by Joe Baes and heavy hors-d'oeuvres.
If you want to succeed and influence others, you must learn how to connect with people. While it may seem like some people are just born with it, the fact is anyone can learn how to make every communication an opportunity for a powerful connection. In this workshop, Derek will show you how to get the message across by building a bridge to others. He will point out that cultivating relationships is every bit as important to effective communication as crafting the message. Derek will share four principles and four practices to develop the crucial skill of connecting that will give you the edge.
We hope to see you there!
Click here to purchase your ticket today!
By Contributing Author, Brooke White, Owner, Personal Trainer, USATF Level 2 Coach, SOUND FITNESS