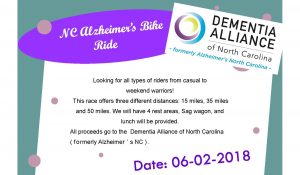 June 2, 2018 from 8:00 a.m. – 2:00 p.m.
Alzheimer's of Eastern North Carolina and HomePlace of New Bern are sponsoring the 2nd Annual Ride to Remember on Saturday, June 2 at 8:00 a.m.
It starts and ends at HomePlace of New Bern at 1309 McCarthy Blvd.
Cyclists have the option of three distances: 5 miles, 35 miles or 50 miles. There will be plenty of rest stops with food and drinks and lunch will also be provided.
To register for this event, go to Eventbrite.com.
For questions or more information, contact Melanie Noble at 252-637-7133.
Submitted by: Darian Dennis