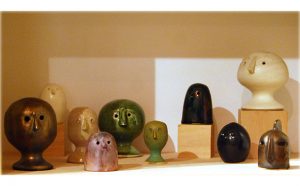 Acclaimed Miniaturist to be featured at Bank of the Arts
Craven Arts Council & Gallery is proud to present the work of Carolyn Curran in the Director's Gallery at Bank of the Arts for the month of June 2018. An accomplished potter, Curran is known for her work in historical miniatures. Craven Arts Council will host an opening reception during the downtown New Bern Artwalk, June 8th, from 5pm to 8pm.
Carolyn Curran's first foray into the art world was an Art History degree from Brown University in 1960, which included classes at the acclaimed Rhode Island School of Design. Her early work, created while taking care of her three sons, focused on functional works sold to local wholesalers. In 1976 Curran was introduced to the world of 1" miniatures for dollhouses, and quickly realized her niche in creating historically accurate replicas of traditional pottery. She was quickly recognized for her talent with purchases from the Enchanted Doll House and Bennington Museum, followed by inclusion in the International Guild of Miniature Artisans and their annual exhibition in New York City. In 2005 Caroyln moved to North Carolina and helped to establish City Potters in 2014. Curran has won numerous awards and commissions for her work, including her most recent inclusion in the "Badass Miniatures" show in Yonkers, New York.
The Bank of the Arts in open 10 a.m. – 5 p.m., Tuesday through Saturday, with extended hours during the Artwalk. Admission to all galleries is free.
For more information please contact Jonathan Burger, Marketing and Gallery Director, Craven Arts Council & Gallery, Inc. at the Bank of the Arts, 317 Middle St., New Bern, 252-638-2577
Submitted by: Jonathan Burger