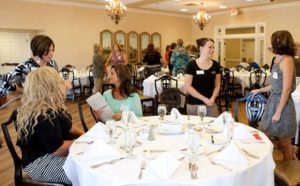 Coastal Women's Forum will hold its next Lunch Meeting from noon to 1:00 p.m. on Wednesday, May 16 at the New Bern Golf and Country Club. Registration and networking will begin at 11:30 a.m. The cost is $15 for members and $20 for visitors.
This month's speaker will be City of New Bern's Public Information Officer & Brand Manager, Colleen Roberts. Her topic will be "The Value of Beauty & Its Impact on Public Perception." Recently, the Elks Building downtown was wrapped in scenic New Bern images as a means of disguising the fact that it is vacant. Why is this important? What's is the real value here? And why do we care?  Learn the art of "place-making" and it's impact on community health & wellness, the economy, and our sustainability.
Pre-registration is required by noon on Monday, May 14. You can register online. Check or cash payment will also be accepted at the door. For more information, or to register, contact the CWF Lunch Coordinator.
To learn more about what Coastal Women's Forum has to offer, or to register online, visit CoastalWomensForum.com.
By Contributing Author: Penny Zibula, Six Legs Will Travel