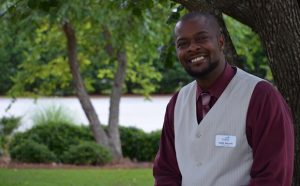 Surrounded by the 8 regional finalists, superintendents, family and special guests, Mr. Tabari Wallace, principal at West Craven High School was named the 2018 Wells Fargo North Carolina Principal of the Year on May 11, 2018.  The announcement took place during a luncheon at The Umstead Hotel in Cary, North Carolina.
Mr. Wallace, the state's top principal, was selected from a field of eight regional finalists chosen earlier this year following interviews and a rigorous portfolio review. The state was well represented with the regional principals of the year in attendance. Congratulations to each for being selected to represent their region.  The regional principals of the year are:
Northeast: Michelle White, D.F. Walker Elementary (Edenton-Chowan Public Schools);
Southeast: Tabari Wallace, West Craven High (Craven County Schools);
North Central: Jonathan Enns, Fuquay-Varina High (Wake County Public Schools);
Sandhills:  Jim Butler, Richmond Senior High (Richmond County Schools);
Piedmont-Triad: Tracy Kimmer, Yadkin Early College High (Yadkin County Schools);
Southwest: Titus L. Hopper, Cleveland Early College High (Cleveland County Schools);
Northwest: Desarae Kirkpatrick, Nebo Elementary (McDowell County Schools) and
Western: Melissa Godfrey, Andrews Elementary (Cherokee County Schools)
Dr. Meghan S. Doyle, Superintendent shares, "Mr. Wallace is a champion for children. He is a tireless advocate for the needs of our students in a challenging world. He is the place of comfort, support, encouragement, and the highest expectations for every child and adult with whom he works. We are blessed to have him in Craven County Schools and we are excited to have his voice represent the school leaders of our state."
This year's Wells Fargo Principal of the Year receives $3,000 for personal use and $3,000 for his or her school. The winner also receives professional development and resources supporting global awareness in the curriculum for their staff, thanks to Education First Tours, a custom­ made NC Principal of the Year signet ring and pendant from Jostens Inc, a complimentary two-night stay at the new Hampton Inn & Suites Downtown Chapel Hill-Carrboro, and resources to help combat child hunger from the Principal of the Year program's newest sponsor, No Kids Hungry NC.
This is the 35th year the North Carolina Department of Public Instruction has partnered with The Wells Fargo Foundation to recognize the state's outstanding principals. Since 1984, when the program began, 38 Principals of the Year and 248 regional recipients have been recognized. In addition, The Wells Fargo Foundation has provided more than $1 million in cash awards during that time to these school leaders.
Submitted by: Jennifer Wagner, Director of Public Relations, Craven County Schools