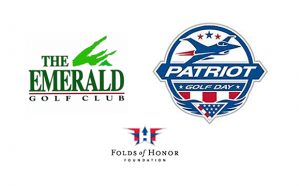 Benefiting Families of Wounded and Fallen Soldiers
On Saturday, June 9, 2018, The Emerald Golf Club will offer golfers the opportunity to honor the sacrifice of American heroes. Patriot Golf Day, the primary fundraiser for the Folds of Honor Foundation, is an annual event to raise money for educational scholarships for children and spouses of military service men and women killed or wounded while serving our great nation. Patriot Golf Day is jointly supported by The PGA of America and the United States Golf Association. This might be the time of the year when you make decisions about charitable giving, and we hope you might consider Folds of Honor.
There are more than one million dependents of fallen and wounded military service men and women from the Iraq and Afghanistan conflicts alone, and 87 percent do not qualify for federal education assistance (as of Jan. 1, 2012). Patriot Golf Day allows the Folds of Honor Foundation to present an ongoing tribute to our brave service members by ensuring that the families of fallen and wounded warriors have hope for the right educational start to life and best future possible.
Since its inception in 2007, more than $17 million has been raised through Patriot Golf Day events, allowing Folds of Honor to award more than 3,500 educational scholarships. We are thrilled to hold our 9th annual event and look forward to adding to the $169,500 that we have raised to date.
Thank you for helping ensure that no family is left behind in the field of battle, making sure that we honor their sacrifice and educate their legacy. Thank you for your support and patriotism.
Patriot Golf Day Tournament Committee at The Emerald Golf Club:
Jerry Briele                            252-233-4440           Rick Crosby              252-635-1893
John & Michele Cole           252-635-9215           Pat Barry                   703-969-6972
Ken Houser                           252-626-2309           Karen Mincavage     252-639-0462
Kathy Petrichko                    252-288-4640           Mary Jo Fox              440-478-6796
Lois Damico                          252-633-1626           Melinda Mantel         330-812-4321
Russ Hackett                        252-876 8077
Make checks payable to: "Folds of Honor Foundation"
Send to: The Emerald Golf Club, PO Box 12341, New Bern, NC 28561
For details call 252-633-4440 ex 228 or visit www.foldsofhonor.org or www.patriotgolfday.com.
Submitted by: Kathy Petrichko