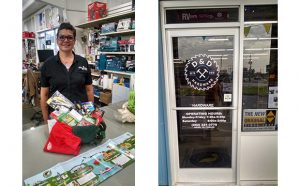 Lower Eastern North Carolina (LENC) Operation Christmas Child (OCC) is so pleased that Decks & Docks, Bridgeton has joined our ministry as a Community Partner! Stacy, the manager, is going above and beyond. She has a small display, but she is the drop off location in Bridgeton, North Carolina now – all year around!
D&D wants to support this ministry all year! Need a box to pack – go to D&D and while you are there pick up a few items as well. After filling a box, go back to D&D and drop off the box.
Why is D&D a supporter – Boys 10-14 years of age need boxes and are Underrepresented – items at a local hardware store are just perfect for them – and this store has some hygiene items as well to include. Stacy is very knowledgeable about shoeboxes and wants to help get more. D&D Bridgeton is just awesome! Their contact information is: 607 US Hwy 17, New Bern, NC 28519, 252-221-3779, Decks-Docks.com/locations/new-bern. The store has that community friendliness – always greeted with a smile and a kind word and now they will help this ministry get even more
shoebox gifts this year for children!
Submitted by: Patti Mason