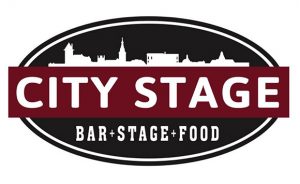 City Stage New Bern, located at New Bern's Historic City Laundry 901 B Pollock St. will open its doors on August 2nd. While the location may be familiar to many, the venue has gone through quite a transformation and can now accommodate large scale events. It's an eclectic restaurant, lounge and entertainment venue offering a full bar and casual dining. Patrons will enjoy the very finest acts from the local and regional music and arts scene, comedy nights, theatrical performance, Burlesque shows and so much more; while enjoying the best pub-style food in the area. Owners; Robert Lamb, Chris Straight, and John Van Dyke invite you to come and enjoy a preview week of free performances August 2nd through August 9th!
City Stage is a Private Club. There is a $1 Annual Membership Fee.
Aug 2nd, 7 – 10 p.m.: Monthly Jazz Jam Featuring Brandon Shamar at the keyboard. Each month City Stage will host pro jam sessions featuring some of the finest musicians in our area. This month we're featuring Brandon Shamar on the keyboards. Brandon is a talented and "In demand" jazz player. He studied jazz piano at ECU and plays regularly with several bands in and around the Triangle area.  No Cover.
Aug 3rd, 7 p.m.: Alisa Mike CD Release Party. City Stage hosts the CD release party of local, well-known vocalist, Alisa Evans Mike. Alisa, who studied music at Saint Augustine's College in Raleigh, is a regular on the music scene in New Bern with a loyal following. The concert is free. There is limited VIP seating (Includes autographed CD), to reserve VIP please visit A.M. Serenades on Eventbrite.com.
Aug 3rd and 10th, 10 p.m.: Funky 70s Dance Party and Lip Sync Battle. It's time to bust out the bell-bottoms and shake your booty on the dance floor at City Stage! Disco, Funk, and 70s Rock. We will have lip sync battles throughout the night so you and your friends can take the stage and compete for prizes!
Aug 4th, 7 p.m.: 4th Stand up Comedy Showcase with Matt White and Friends. Winner of the "2012 Port City Top Comic" and 2013 "Carolina's Funniest Comic", Matt White's brand of observational humor mixed with improv and theatre elements engages audiences and leaves them giggling for days.
Aug 4th and 25th, 10 p.m.: Throwback 90s Dance Party and Lip Sync Challenge. "Let's re-live all the fun of the 90s! Your memories of the music, the videos, the movies, the big hair, scrunchies and maybe even Fred Durst! We will have lip sync battles throughout the night so you and your friends can take the stage and win the prize!
Aug 7th, 7 p.m.:  Folks Hosted Local Bands Featuring Pyslo Joe. The first Tuesday of each month Folks Journal and City Stage will partner to bring you Parker Millar's Local Band Night. This month we're featuring Greenville's own Psylo Joe. "Psylo Joe is an improvisational band that explores divergent areas of music such as funk, rock, acid jazz, blues, and traditional. The band consists of Bryan Quintard (guitar, vox), George Thornton (Bass), Hunter Parker (saxophone), and Tom Berrington (drums). Psylo Joe has taken their artistry all across North Carolina, and has developed a loyal and congenial following." This band is going places. Don't miss the opportunity to see them right here on our New Bern stage.
Wednesdays In August, 5 – 7 p.m: Mid-week Re-boot with Dan Phillips. Unwind with a cocktail and a light snack while listening to some music with friends to recharge for the rest of the week. Dan Phillips will play acoustic renditions of classic rock, blues and Americana.
Wednesdays in August, 7 – 10 p.m.: City Stage will present local singer John Van Dyke. For more than 30 years John has been performing in clubs and theatres from Miami to Los Angeles and for the past decade he has been a regular on our local music and theatre scene.
Thursdays in August, 7 p.m.: Evening Serenade with Alisa Mike. Beginning Aug 9th and continuing every Thursday, singer Alisa Mike serenades us with jazz standards from the Great American Songbook, as well as other classics through the years and ones in the making.  Artist Donations Encouraged. Table reservations are highly recommended, call 252-631-5122.
Aug 10th, 7:30 p.m.: A Tribute to Lady Day. "The velvet-voiced queen of jazz, born into poverty in Baltimore, celebrated in the halls of Harlem, and launched to world stardom with a gardenia in her hair." Join us as we celebrate the timeless Billie Holiday, a jazz singer of monumental innovation. With featured performances by Alisa Mike, Chameshia Coplon, Ciara Di Napoli, Cora Chadwick, Krishanda Jones and Marleigh Ferguson. Hosted by John Van Dyke. After the show stick around and dance to the swing music of the 30s and 40s. No Cover for the after party. Tickets $15. Table reservations recommended.
Aug 10th, 10 p.m.: Swing Dance. All you Hep Cats come out and swing on the Dance Floor! It's an evening of 1930s and 40s Swing with some cool cocktails, great music and friends! Vintage costumes optional but encouraged.
Aug 11th, 8 p.m. – 12 a.m.: Madame Z's August Pride. Madame Z and The Pollock Street Drag Divas are ready to bring realness for this Grand Opening event. It's a dance party and a show you'll never forget. The crowd is always diverse and fun loving and the mood is sublime! Tickets $8.
Aug 14th, 7 p.m.: A Poetry Happening hosted by Melissa Black. City Stage is presenting monthly interactive events to promote and nurture the Arts Community in New Bern. This month we are featuring A Poetry Happening hosted by Melissa Black. This is an open event and all forms of Poetry are welcome. The evening will include an Open Mic session and an interactive Round Robin. We'll start at 7pm with sign up and explanation of the Round Robin prompt. Starting at 7:30 we will do Open Mic with five-minute limits and begin passing the Composition Book. We will close out the evening with a reading of the piece that we have all written together.
Aug 17th, 7 p.m. Folks Journal presents Backwater Bluegrass. A full evening of Bluegrass headlined by a local favorite! The featured band for the night, Strung Together is a family band, born on the Olivers' front porch in downtown New Bern, NC. Strung Together has enjoyed performing for audiences in NC and SC, making music and memories together as a family. Playing the songs that they love, adapted to their own style. Tickets $10.
Aug 18th, 8 p.m. – 12 a.m.: Welcome to the Sixties Dance Party and Show. An exuberant jukebox celebration of the music that made the 60s truly memorable! Featuring chart toppers that range from the early R&B hits to Motown's memorable grooves to the British invasion and the Summer of Love. So break out your vintage best. Tickets $8.
Aug 21st and 28th, 7 – 9 p.m.: Jim Kohler. With a unique style all his own, Jim Kohler is one of the last true blues players. Having played for over 20 years with blues legends, Jim has created a killer sound that everyone will enjoy!
Aug 24th, 9 p.m.: Bridge to Breakdown, Waking Tera, and Break the Skyline. Bridge to Breakdown is a band with a unique writing and performance style. Combining Rock, Metal, Blues, and Alternative to create a powerful fusion. A local favorite! B2B will be joined by Waking Tera, a high energy hard rock band based out of Raleigh, NC. And Wilmington favorite Break the Skyline. It's a whole evening of incredible talent. Tickets $10.
Aug 25th, 7 p.m.: Improv Comedy Night Featuring Walk In Bathtub. Audience's are part of the show! Give us your suggestions and watch us create hilarious unscripted scenes right before your eyes! This month featuring Walk in Bathtub, New Bern's own Improv Team! Come and explore the hilarious, unpredictable world of Improv comedy. Tickets $7.
For more information, visit The City Stage at The City Laundry, 901 Pollock St.
Submitted by: John Van Dyke, The City Laundry