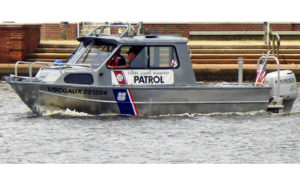 Basics of Navigation, a hands-on class taught by certified US Coast Guard Auxiliary Instructors will be presented August 11th. It will introduce you to chart reading, chart plotting, aids to navigation and the Rules of the Road. This full-day, information-packed session gives the new (and not-so-new) boater the skills to: 1) know where you are when boating; and 2) chart where you want to go. You also will learn about the various types of aids to navigation that guide you on the water. You may bring your own plotting tools and charts (NOAA chart 11552) or we will supply them for class purposes.
The course runs from 8:30 am to 4:30pm at the Fairfield Harbour Community Center at the Fairfield Harbour Firehouse, 589 Broad Creek Road. A fee of $35 covers instruction as well as the Boating Skills and Seamanship Manual, an excellent reference for new boaters. Additional family members or guests using the same text pay only $5.
Registrants also are invited to bring their trailered boats to the parking lot for a free vessel inspection.
To register or if you have additional questions, email David Fort, call 252-672-1653; or visit NewBernCGAux.org. Be sure to include your name, names of family members/guests who may also be interested, and your telephone number
The U.S. Coast Guard Auxiliary is the uniformed civilian component of the United States Coast Guard and supports the Coast Guard in nearly all mission areas. The Auxiliary was created by Congress in 1939.
Visit NewBernCGAux.org to learn more about the Coast Guard Auxiliary.
Submitted by: Bob Manning