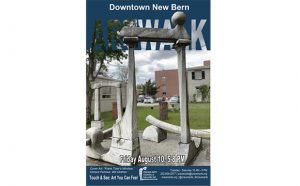 Special Artwalk Event Invites Blind and Visual Impaired of Craven County to Participate in Artwalk
August 10, 2018, 5 p.m. – 8 p.m.
In cooperation with the National Federation for the Blind of North Carolina, Coastal Carolina Chapter, Craven Arts Council & Gallery is proud to announce "Touch & See: Art You Can Feel" during the Downtown New Bern Artwalk on August 10th, 5pm-8pm. This event, spread out and hosted by 17 Artwalk locations, will feature artwork, activities, and products intended for blind and visual impaired, as well as the sighted.
Craven County hosts a large blind and visually impaired population, which oftentimes goes underserved in many areas including art. The goal of "Touch & See" is to make Artwalk as inclusive as possible, ensure that Craven County's blind and visually impaired community feel welcome, and showcase how art is for everyone. Activities will include textural sculptures and paintings, hands on ceramics demos, scent ant textured based experiences, and more. Participating locations include Craven Arts Council & Gallery, Michaele Lee Rose Studio, the Black Cat Shoppe, Hopeful Balance, Community Artist Gallery & Studio, Nautical Wheelers, Mitchell Hardware, Ballantyne Framing, Blush Boutique, Red Shoe Gallery, Greater Good Gallery, Bespoke Florist, Small Batch Graphics & Goods, Carolina Creations, Wit Clothier, Living Color Ceramics, and Sanctuary Gallery. More information can be found on the August Artwalk card or CravenArts.org/touch–see.html.
"Touch & See" was organized in memory of Lotario "Bubba" Dillahunt, Sr, who passed away August 9, 2017. A New Bern native, he become fully blind in 2009. He attended the Governor Morehead School for the Blind in Raleigh and helped to charter and organize the National Federation for the Blind of North Carolina Coastal Chapter.
For more information please contact Jonathan Burger, Marketing and Gallery Director, Craven Arts Council & Gallery, Inc. at the Bank of the Arts, 317 Middle St., New Bern, 252-638-2577
Submitted by: Jonathan Burger