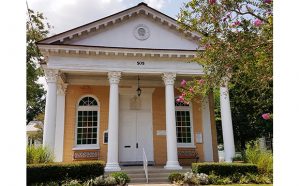 Celebrate the High Holy Days – Rosh Hashanah and Yom Kippur – with Temple B'nai Sholem Inscribe your loved ones in the Temple's Book of Remembrance
Temple B'nai Sholem, the historic synagogue at 505 Middle Street in New Bern, NC, welcomes its members, unaffiliated Jews, their families, and friends to worship with the Temple community for the 2018 High Holy Days. Rabbi David Whiman and Cantorial Soloist, Sherry Cohen, will lead religious worship at the Temple.
Rosh Hashanah Services will begin Sunday, September 9 at 7:30 p.m. and resume Monday, September 10 at 10:30 a.m. Yom Kippur worship will begin with the Kol Nidre service on September 18 at 7:30 p.m. and resume Tuesday, September 19 at 10:30 a.m. The Book of Jonah will be read at Yom Kippur afternoon services beginning at 3:30 p.m. immediately followed by the Yizkor Memorial Service. Yom Kippur services will conclude with the traditional blowing of the Shofar.
Temple B'nai Sholem's Book of Remembrance honors the memory of departed loved ones and will be read at the Temple's Yizkor Memorial Service on Yom Kippur. Temple members, unaffiliated Jews in New Bern and surrounding counties, and all those who have lost loved ones are invited to participate in this meaningful tradition. The Book of Remembrance is Temple B'nai Sholem's major annual fundraising event. For an "In Memoriam Form" to inscribe your loved one in the Book of Remembrance contact Elga Joffee at ejoffee@gmail.com or 252-772-8142 prior to August 22, 2018.
Temple B'nai Sholem is a welcoming Reform Jewish congregation in New Bern, NC. The synagogue, constructed in 1908, is in the New Bern Downtown Historic District. Services of religious observance are held at the Temple each Shabbat and on the High Holidays. Lay-led Shabbat services are on Friday evenings at 7:30 p.m., except for the first weekend of each month when Shabbat services are on Saturday at 10:30 a.m. Visit the Temple's website at Bnai-sholem.org.
Submitted by: Carla Bynes, President, Temple B'nai Sholem