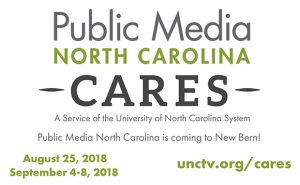 We had the pleasure of interviewing Shannon Vickery, Director of Production Partnerships and Business Development, with UNC TV Public Media North Carolina.
Here's a summary of what we talked about, so we encourage you to listen to the entire interview to learn about the great things that UNC TV offers to communities across the State. Listen to our Interview here: https://www.newbernnow.com/wp-content/uploads/2018/08/Shannon-Vickery-UNC-TV-080818.mp3
Shannon Vickery said, "We are excited to be coming to New Bern at the end of August, beginning of September as part of our Public Media North Carolina CARES Initiative. This is a campaign where we are visiting communities all across the State, connecting our audiences with resources through education and service about what we have here at Public Media North Carolina, and learning more about the great work happening in communities across North Carolina".
"Our trip to New Bern is a way for us to share with everyone in the region some of the new things that we are doing and the resources that we have available. It also gives us a great opportunity to have a number of events and really elevate all of the great work that is happening in New Bern, Craven County, and the entire region with our Statewide audiences."
"We'll be kicking everything off on August 25 with our Read-a-roo's Block Party LIVE! Our Children's Media and Educational Services Team will be spending a good part of the day, from 10 a.m. – 2 p.m. at the New Bern Riverfront Convention Center. Coming along with them for the Block Party are a number of the wonderful characters from our PBS Children's Programing and a number of local partners who will be sharing local resources that are available to kids, families, and caregivers."
"We will be back in New Bern and Craven County on September 4 – 8 with the rest of our Public Media North Carolina CARES activities. That includes on September 5, a special Summit that we will be doing with local partners around the issues of Economic Development and Community Redevelopment. We have found out as we've been doing our research about New Bern and Craven County and the entire region, that there are a lot of wonderful things happening when it comes to Economic Development, Community Redevelopment, the role of Education Institutions and non-profits and volunteers in making the entire region a very vibrant place to live. Our Summit will focus on some of the models and best practices that are happening in your area and we'll be able to share those with the rest of the State because we will be live web streaming on September 5 from 8 a.m. – 1 p.m. at the New Bern Riverfront Convention Center. It's open to the public. Some of the content that we record will also be broadcast on our North Carolina Channel."
They will also have a producer meetup opportunity where you can talk to some of their producers and share any story ideas with them.
On September 6, they'll have their Board of Trustees and Foundation Board Meeting at Tryon Palace.
During their visit their content team will be here recording stories. This includes their North Carolina Weekend Producers, Science Producers, Arts Team, along with in depth Producers, and My Home, NC Team. You'll be able to get a "behind the scenes look" as it will be open to the public.
All the events will be open to the public as they want to meet as many people as possible while they're here. For all the details, visit unctv.org/CARES.
We're looking forward to meeting Shannon and the UNC TV Public Media North Carolina CARES Team!
Please let us know if you have any comments, suggestions, or would like to set up an interview and spread the word about a special event or other interesting topic. Send me an email or give me a call at 252-259-6853.
Wendy Card