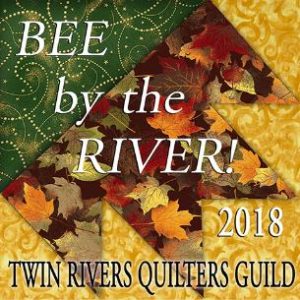 The Twin Rivers Quilters guild Bee by the River "Seasons for Quilts" Quilt Show originally scheduled for October 2018 has been moved to October 25-26, 2019.
Hurricane Florence significantly affected Eastern NC, specifically our members and the town of New Bern.
Our venue for the show, the New Bern Riverfront Convention Center experienced extreme flooding and needs significant repairs, which could take months to complete.
This show and our community are the pride of our guild membership.  As our community continues to rebuild we will continue to quilt, allowing us to provide warmth, comfort and friendly faces to our community. In turn, this will no doubt positively imprint our 2019 show.
Stay updated at our website at TwinRiversQuiltersGuild.com or on Facebook at Twin Rivers Quilters Guild.
Submitted by: Suzie Hardy, Publicity Chair, 2019 Bee by the River Quilt Show