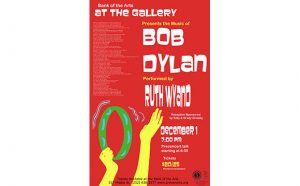 December 1st, 2018 at 7 p.m.
Craven Arts Council & Gallery is proud to present "At the Gallery: Bob Dylan," performed by Ruth Wyand. The "reluctant voice of a generation," Dylan's music is seen as the anthem of the hippie and counter cultures of the 1960's. Originally scheduled for September 22nd and rescheduled due to Hurricane Florence, the concert will take place in the Main Gallery at Bank of the Arts at 7pm, December 1st.
The "Reluctant Voice of a Generation," Bob Dylan has been a power house in American folk and popular music for more than five decades. With songs that draw from a wide range of political, literary, philosophical, and social influences, Dylan's music was the anthem of the anti-war, Civil Rights, and counterculture movements of the 1960's. In a career that continues to this day, Dylan has explored the technical, lyrical, and political motives and means of music, from electrical guitars to concept albums. His songs and albums have won him 11 Grammys, induction into the Songwriter and Rock and Roll Halls of Fame, a Pulitzer Prize, and the Nobel Prize for Literature. Hits include "Times They Are A Changing," "Blowin' in the Wind," and "Like a Rolling Stone."
Ruth Wyand is an accomplished musician who has toured the United States, United Kingdom, France, New Zealand, Bermuda, and Kuwait. With one foot in the juke joints and one foot in the jazz clubs Ruth draws on American roots music to frame her lyrics and demonstrate her strengths as a guitarist, songwriter and vocalist.
Tickets are $20 for members and $25 for nonmembers, available in person at Bank of the Arts, over the phone at 252-638-2577, or online at CravenArts.org.
Submitted by: Jonathan Burger, Marketing and Gallery Director, Craven Arts Council & Gallery