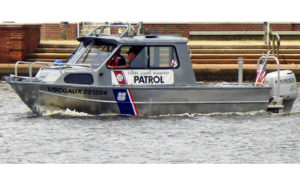 The New Bern-Oriental area Coast Guard Auxiliary is offering two safety and navigation courses this month on Saturday, December 15. New and experience boaters can attend Navigating Local Waters from 9 a.m. to Noon, followed by Suddenly in Command from 1 to 5 p.m. Both seminars are at the New Bern Yacht Club, 1206 Brice's Creek Road in New Bern.
Navigating Local Waters Seminar is the most popular class as boating is a lot safer, not to mention a lot more fun, when you know the waters you're in. Coast Guard Auxiliary certified instructors offer this seminar for $10 per household which includes a CD packed with useful information and charts. While the emphasis is on the Neuse and Trent rivers and other waters around New Bern, the seminar also presents the locations and features of many popular anchorages, marinas and boatyards in the Neuse and Pamlico river basins, as well as the ICW to Morehead City/Beaufort and on to Cape Lookout.
Suddenly in Command is for First Mates and other passengers. If the Captain suddenly becomes incapacitated, you're in command of a vessel you may know little or nothing about. What do you do? This four-hour boating safety class from 1-5 p.m is $20.00 and includes a textbook. Additional family members using the same text pay $5.00 each. It is designed for folks not usually at the helm as well as new boat-owners and provides the basics to handle an emergency. Certified Coast Guard Auxiliary instructors teach basic boat handling, how to use the radio to call for help, using other important equipment that should be on board and how to avoid boating mishaps while you're in command.
For more information and to register for either or both classes, leave a message for Mike Ott at 252-288-4856 or visit CGAux.org/boatinged/class_finder/.
Submitted by: Bob Manning