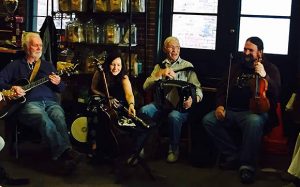 There will be an informal session of Irish traditional music in a new location: Bella's Café & Catering, at 323 Middle Street, Tuesday evening November 13.
The session tradition is a vital part of the Irish musical tradition. You never know exactly who will be there, or which tunes will be played, on a given evening. The New Bern session, locally known as "The Irish Minstrels", has been held monthly since 1998. The session includes such instruments as button accordion, fiddle, guitar, and flute, playing Irish jigs, reels, hornpipes, and songs. Audience members are welcome to sing along and sit in.
Bella's Cafe & Catering is at 323 Middle Street, between Pollock and Broad Streets in downtown New Bern. A wonderful variety of hot and cold coffee and other drinks is available for purchase. The management is staying open late for the session. The music usually starts around 6:30, and will finish up around 8:00. There is no door charge, though donations for the musicians are always welcome. Call 252-633-7900 for more information.
Submitted by: Simon Spalding