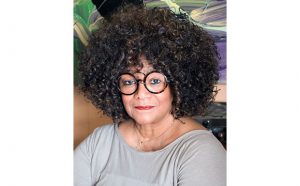 Jaki Shelton Green, the North Carolina Poet Laureate, will be the Featured Poet at the Nexus Poet's Poetry Open Mic Night at 7:00 pm, Tuesday December 4th at the Harrison Center, 311 Middle St in New Bern.
The ninth laureate overall, Green is the first African-American and third woman to receive the honor. Her term officially started July 1, succeeding Shelby Stephenson.
"I am very humbled," Green said. "My intention is to serve us well, strengthen the good work that's been done. I hope to expand it into communities where the literary arts aren't as strong."
"Jaki Shelton Green brings a deep appreciation of our state's diverse communities to her role as an ambassador of North Carolina literature," Gov. Roy Cooper said in a statement. "Jaki's appointment is a wonderful new chapter in North Carolina's rich literary history."
Green, 65, is one of the most acclaimed poets in the state's modern-day history. She won the North Carolina Award for Literature in 2013 and was inducted into the state's Literary Hall of Fame in 2014. She was also the first Piedmont Laureate in 2009.
Green teaches documentary poetry at Duke University's Center for Documentary Studies. She plans to work with North Carolina communities on documentary poetry.
"I thought that would be a very beneficial focus, combining literature and art into a vehicle to help preserve stories of who we are," Green said. "I hope to help build bridges."
After the Featured Poet reads, the mike is open for original poems from other poets who sign up. The Harrison Center, is located at 311 Middle St. in New Bern. This is a free event with donations requested to pay for the space. The readings are sponsored by the Nexus Poets, a group of Eastern North Carolina poets promoting poetry in the area.
Submitted by: Suzannah Cockerille, The Nexus Poets