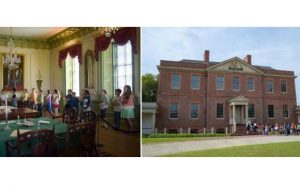 New Program Awards Field-Trip Funding for Title 1 Schools
The Tryon Palace Foundation is pleased to announce the establishment of Palace Scholars, an educational program linking students and educators from Title I schools with funding for field trip opportunities to Tryon Palace. Applications for the inaugural year of Palace Scholars, school year 2019/2020, open January 14, and close at 11:59 p.m. March 1, 2019.
Palace Scholars is a grant-based program for Title I schools in North Carolina, and recipients will be selected and awarded annually through an application process. The program seeks to provide educational opportunities for underserved schools in North Carolina by engaging present and future generations of North Carolinians with their state history through creative interpretation. In recognizing the difficult expense field trips may present to school districts across the state, Palace Scholars has a goal of ensuring all students – regardless of geographic location or socioeconomic background – have the opportunity to benefit from multidisciplinary programs that provide supplementation to traditional curriculum.
The Tryon Palace Foundation invites all educators at Title I schools in North Carolina to apply for a field trip grant. Grants may be used for all field-trip associated costs, including, but not limited to: transportation, admissions, and substitute teacher fees.
For more information about Palace Scholars, or to apply for a grant, visit TryonPalace.org/palacescholars.
Upcoming Events at Tryon Palace
Garden Lecture Series: Getting the Dirt on Soils – Jan 12
Behind the Scenes: Museum Technology Tour – Jan. 15
African American Lecture Series: The Warmth of Other Suns – Revisited. – Jan 17
Discovering Tryon Palace: Outlander in the Governor's Palace – Jan. 19
Discovering Tryon Palace: Home and Hearth – Jan. 19
Submitted by: Regina A. Ochoa, Director of Public Affairs, Tryon Palace