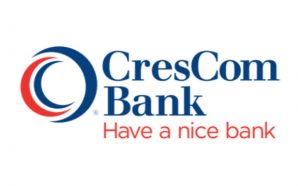 February 7, 2019 at 4:30 p.m.
412 S. Front St.
Join CresCom Bank, New Bern Area Chamber of Commerce, New Bern City Officials, and Swiss Bear Inc. for the Formal Re-Opening of CresCom Bank in New Bern.
This local branch was closed and underwent renovation after the flooding and damage from Hurricane Florence, and is pleased to welcome local media, local officials, and local businesses to celebrate the re-opening.
CresCom Bank and Swiss Bear, Inc. will also make a special announcement to commemorate the incredible New Bern community whom banded together through the devastation of Hurricane Florence with a commissioned "New Bern Strong" bear statue. This announcement will be made public at the event, and all media is invited.
Attendees Include: David Morrow, CEO & President of CresCom Bank; Lynne Harakal, Director of Swiss Bear, Inc.; and Eileen Bress, Director of Craven Arts Council & Gallery
About CresCom Bank:
CresCom Bank, the second largest community bank in the Carolinas, is dedicated to providing exceptional customer service and quality products to the communities it calls home, and prides itself on its strong knowledge of local business and economic trends. Currently, CresCom Bank has 61 branch locations throughout North and South Carolina, and as of December 31, 2018 has approximately $3.8 billion in total assets.
Under the holding company of Carolina Financial Corporation (NASDAQ: CARO), CresCom Bank is one of 29 small-cap banks in the nation to be recognized as a 2017 Sandler O'Neill Sm-ALL Stars. CARO was also added to the Nasdaq Community Bank Index (ABAQ) by the American Banker's Association. CresCom Bank owns Crescent Mortgage Company, which originates loans in 47 states partnering with community banks, credit unions and mortgage brokers.
To learn more about CresCom Bank, visit haveanicebank.com or call 1-855-CRESCOM. Stay current on bank news and happenings on social media:
Facebook.com/CresComBank and Twitter.com/CresComBank.
Submitted by: Emily Trogdon, Public Relations Manager, The Brandon Agency