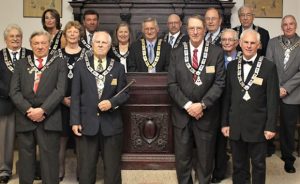 At a recent meeting of The New Bern Elks Lodge #764, new officers for the year beginning April 2019 were selected.  Named Exalted Ruler for the Lodge was Dale Petrangelo, formerly "Esteemed Leading Knight", a member since 2007 when he and his wife, Terry, moved to Fairfield Harbour.
Pictured here surrounding ER Dale are (top row) Pam Dion, Lecturing Knight; Armon Dion, Organist; Carole Graham, Loyal Knight; Mike Gerlach, Trustee; John Serumgard, Justice; Dave Finn, Trustee; (middle row) Guy Pascarella, Inner Guard; Linda Follett, Treasurer; Shawn Doughty, Tiler; Jack Meehan, Trustee; (front row) Pat Dunleavy, Leading Knight; John Baxter, Esquire; John Lawrence, Secretary; Don McCurdy, Chaplain.
Members meet regularly at the Lodge building on Pinetree Dr. for special dinners and the "Best Breakfast in Town", community BBQs for the hungry; raise thousands of dollars for veterans, support the "Veteran's Stand Down", The Elks Home in Kinston. "Hoop Shoot" for kids, the Big Brothers movement, Elks against Drug Abuse, financially aided victims of Hurricane Florence and celebrate important national holidays like Flag Day and Veterans Day. The New Bern Lodge is a very active fraternal organization and is always interested in new members.
If you'd like to learn more about The New Bern Elks Lodge, contact Dale Petrangelo at 252-626-3317.
Submitted by: Bob Manning