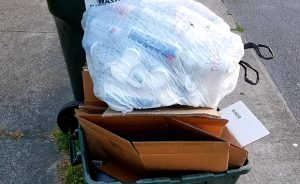 In March, we decided to create an April event to attract people to Downtown New Bern. So, I asked Foster Hughes, Director of New Bern Parks and Recreation, to partner with New Bern Now for Earth Day. At that time, I believed I was a steward of the environment as a nature lover and primitive camper.
Our goal was to bring people together to re-start the conversation on how we could "Rethink, Refuse, Reduce, Reuse, and Recycle". Since I started New Bern Now in 2009, my vision has always been to unite our community. I thought it would be an easy way to connect local conservation, preservation, and environmental organizations and included fun, eco-friendly things for kids to do!
After researching, I realized that I had a lot to learn! To be honest, I thought since single use plastic bags were recyclable – I was wrong. I thought all plastic drink bottles that were marked on the bottom of the container with the # 1 or 2 were recyclable – I was wrong as the plastic caps aren't. I thought all cardboard was recyclable – I was wrong again as pizza boxes along with others aren't. I've already embarrassed myself, so I won't go on, but you get the point. A lot of us have so much to learn and our community must come together to rethink how we can help problem solve for the greater good of our environment.
We were very happy by the turnout for the Earth Day Celebration as we had a fun day of learning about ways that we can make simple changes to improve our environment on April 20.
We were disturbed by the announcement on Earth Day that Craven County will no longer be picking up "curbside recycling" as of June 28, 2019. So were a lot of residents! The decision was made on April 15 by the Craven County Commissioners due to an increase in cost.
With that said, I'd like to point out that the 3 R's to a sustainable environment has evolved over the years into 5 R's. You'll also notice that Recycle is last on the 5 R's "Rethink, Refuse, Reduce, Reuse, and Recycle".
I'm not an environmentalist by any means, but after doing a lot of research, I realize that the County Commissioners were faced with a difficult fiscal decision. If you didn't know, China and other Countries decided to ban previously accepted recyclables which has been a major factor in the increase in recycling costs. I'd like to believe that they've realized that they don't want to continue to be the wasteland for the rest of the World. I don't blame them. As the United States wouldn't want to be considered the wasteland for others.
Although money has a lot to do with decisions, I also realize that we as citizens cannot blame others if we're not willing to change our way of thinking and our way of life. One simple change we can all make: consider using eco-friendly re-usable bottles and refilling them with tap water instead of using plastic water bottles for convenience. If you're worried about drinking your tap water, contact your local city/county representative and ask them to send you the water quality report. As a consumer, you're entitled to know what's in your water. Or if you don't trust the source, install a water filtration system. If you think that you can't afford it, think about the amount of money you pay for plastic water bottles. The monetary cost adds up, but so does the amount of plastic that ends up in our rivers and oceans. The facts are outlined by EarthDay.org. In 30 years, "there will be more plastic in the ocean than fish (by weight)".
There are so many other popular products that are not recyclable like plastic straws and utensils, one use coffee cups, paper towels, etc. These are only a few of numerous products that aren't recyclable.
Please know that we care about our community, wildlife, and environment and we hope that you don't perceive this article as a lecture on how to live your life. We're only responding to a number of complaints that we've heard about the Craven County recycling program and wanted to set the record straight and urge others to come up solutions to the problem that our County faces.
If you have any ideas, we hope that you will suggest solutions to the Craven County Commissioners during a special meeting regarding the curbside recycling contract on Friday, April 26 at 10:30 a.m. in the Commissioners' Board Room at the corner of Broad and Craven Streets.
We live in an awesome community with people from different backgrounds who may have solutions to resolve the problems that we face!
Although the County recycling issue is immediate, we believe public education regarding alternative ways in becoming more socially conscious about our way of life is imperative and will have a direct impact on our local environment and protect our natural habitat.
Please let me know if you want to get involved in making a difference locally by calling 252-259-6853 or sending us an email.
Wendy Card