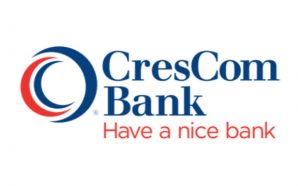 CHARLESTON, S.C. – CresCom Bank is excited to officially reveal the New Bern Strong Bear statue that will stand at its Front Street branch in New Bern, North Carolina. On August 8th, the New Bern "bear town" will welcome a new member to its incredible community and CresCom Bank will host a cookout at 4:30 p.m. to celebrate the grand introduction.
In commemoration of the New Bern Community, CresCom Bank partnered with Swiss Bear, Inc. and Craven Arts Council and Gallery commissioning local artist, Sheri Leseburg, to create a New Bern Strong Bear statue to honor the community for their strength, courage, and unity through the devastation of Hurricane Florence. Like many local businesses in the area, the bank closed after the flooding and destruction from Hurricane Florence, and has been refurbished and is currently open for operation.
"We are humbled to be able to honor the New Bern community with this statue to be a symbol of their perseverance," said David Morrow, CEO & President of CresCom Bank. "The strength, courage, and unity shown by the amazing New Bern community whom banded together through the devastation of Hurricane Florence is truly something that merits recognition."
"It has been an honor to work with CresCom Bank throughout the process of sponsoring the New Bern Strong Bear designed by artist Sheri Leseburg," said Eileen Cress, Director of Craven Arts & Gallery. "Incorporating her vision, Sheri created a statue that is symbolic of New Bern's 300 plus years and embodies the strength and resilience of our city."
Be sure to come by the Front Street branch on August 8, 2019 to see the unveiling of the New Bern Strong Bear statue and enjoy a Southern-style cookout with your family, friends and peers.
For additional information about CresCom Bank or to locate a local branch, visit www.haveanicebank.com.
About CresCom Bank:
CresCom Bank, the second largest community bank in the Carolinas, is dedicated to providing exceptional customer service and quality products to the communities it calls home, and prides itself on its strong knowledge of local business and economic trends. Currently, CresCom Bank has 61 branch locations throughout North and South Carolina, a Loan Production Office in Charlotte, and, as of March 31, 2019, has approximately $3.8 billion in total assets.
Under the holding company of Carolina Financial Corporation (NASDAQ: CARO), CresCom Bank is one of 29 small-cap banks in the nation to be recognized as a 2017 Sandler O'Neill Sm-ALL Stars. CARO was also added to the Nasdaq Community Bank Index (ABAQ) by the American Banker's Association. CresCom Bank owns Crescent Mortgage Company, which is approved to originate loans in 48 states partnering with community banks, credit unions and mortgage brokers.
To learn more about CresCom Bank, visit www.haveanicebank.com or call 1-855-CRESCOM. Stay current on bank news and happenings on social media:
www.facebook.com/CresComBank and www.twitter.com/CresComBank.
Submitted by: Jake Freedman, The Brandon Agency