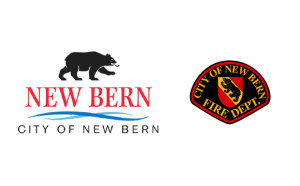 Thanks to a generous grant from the Golden LEAF Foundation, New Bern Fire-Rescue will be able to replace a swift water rescue boat damaged during hurricane Florence.  Fire-Rescue learned last week that the department will be awarded the $34,138.93 disaster recovery grant.  The funds will be used to purchase a new Zodiac FC470 inflatable rescue boat, a fast inflation kit, a fuel bladder and an Evinrude Etec 40 HP motor.
The department's previous swift water rescue boat was used in hundreds of water rescues during hurricane Florence, particularly in the Oaks Road, Greater Five Points, and Olde Towne neighborhoods. After that, New Bern Fire-Rescue deployed the vessel to Jones County, where first responders worked alongside mutual aid crews from the Rocky Mount Fire Department to rescue another 167 people.  During this sustained deployment in high winds and rough water the boat suffered damage which compromised its functionality.
"This funding helps us secure critically needed resources to improve the safety of the public and staff during disasters," said Fire-Rescue Chief Robert Boyd. "The worst scenario is a call for a rescue boat in extreme conditions and not having one available.  We are so thankful Golden LEAF stepped up to help us maintain our equipment and continue to provide a level of service that is absolutely necessary in eastern North Carolina."
The previous swift water rescue boat was an old military surplus vessel New Bern Fire-Rescue acquired several years ago.  It will now be used for training purposes to teach staff how to patch holes and repair valves.  Fire-Rescue hopes to purchase and receive the new Zodiac sometime in October.
"We're a lot safer when we can be on top of the water performing rescues, instead of wading through the water," said Chief Boyd. "And with a motorized boat, we're more efficient too."
Submitted by: Colleen Roberts, Public Information Officer, City of New Bern