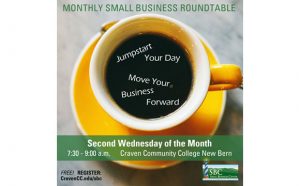 Are you a small business owner? Join us at 7:30 a.m. at Craven Community College the 2nd Wednesday of each month for a topic, networking and coffee. Our next roundtable will be held Wednesday, September 11, where we will discuss time management for small business owners.
Topics are selected to address the challenges and opportunities associated with small business ownership. In addition to education, small business owners can share their ideas, advice and announcements.
Free to attend. Coffee generously provided by Craven Coffee House and Cafe. Online pre-registration is requested. Go to CravenCC.edu/sbc.
Questions? Call 252-638-1166 or email.
Submitted by: Deborah Kania, Director, Small Business Center, Craven Community College